A fully-loaded two day model horse show extravaganza in Georgetown, TX, just North of Austin, TX! A gala of glamorous
proportions, come join the mayhem and don your wintry blues and icy silvers for the first ball of the season!
---
**UPDATES**
MAJOR UPDATES TO OF PLASTIC DIVISIONS
Be sure to carefully look over the new class list!

**JUDGES**

Here is who is slated to judge for us - see China is on Sunday!

SATURDAY

Youth/Novice - Sue Stewart

OF Breyer Breed - Tegan
OF Breyer Collect - Kim
OF Breyer Test/VLR Breed - Shannon
OF Breyer Test/VLR Collect - Shannon

OF Stone Breed - Andi Scott
OF Stone Collect - Kellye
OF Stone Vintage Breed - Carmen
OF Stone Vintage Collect - Lynn

OF Breyer Mini Breed - Erin
OF Breyer Mini Collect - Brooklyn
OF Stone Mini Breed - Erin
OF Stone Mini Collect - Brooklyn

CM/AR Performance - Tiffany

SUNDAY

AR Breed - Tegan
AR Work - Lynn

CM Breed - Kim
CM Work - Carmen

AR Mini Breed - Erin
AR Mini Work - Heather G

CM Mini Breed - Erin
CM Mini Work - Heather G

OF China Breed - Sue
OF China Collect - TBA
CMG China Breed - Sue
CMG China Work - TBA

OF Perf - Tiffany


**GENERAL INFORMATION**

**SHOW HALL INFORMATION**

FRIDAY - You can arrive at 2 PM to help set-up, and then claim a table and unpack. You can stay till we are finished setting up, and then we are locking up for supper and sleep!

SATURDAY - Show Hall will open at 7 AM for setting up. We will shoot for starting by 8 AM, but definitely calling the first classes by 8:30 AM.

SUNDAY - Show Hall will open at 8 AM for setting up. We will start classes promptly at 9 AM.

*Kitchen - we have a huge one! You may bring all the food you wish and make use of the refrigerators and stoves. But remember there is *NO MICROWAVE* - unless someone brings the ole Proctor Silex for everyone to use.

Extra tables - A 'limited' number of EXTRA Tables are available for the show for $25. Please email Shannon BEFORE paying as they are limited in number.



**CLASS CLARIFICATIONS**

~FANTASY Equines - NAN Qualified - You are now able to show your OF Breyer, Stone, AR and Custom Unicorns & Pegasi in OF Collectibility and CM/AR Workmanship classes only. Not available in Performance for all you thinking how cool it would be to have a 'Roping Bucephalus' Class!

NAMHSA Fantasy Specifications

5. Fantasy Equines/Medallions: Fantasy equines (and other animals) as well as medallions remain ineligible for any form of NAN qualification (approved 11-1, 12/07 #23011, and 10-1, 2/09 #27229). **Eligibility for fantasy equines only has been changed in the bylaws and the policy document. Other animals and medallions remain ineligible. Item 6. reflects this change.** 6. Fantasy equine eligibility **is now approved** and limited to equine-based "unicorns" and "pegasi" (or a combination of the two) only **in OF Collectibility and CM/AR Workmanship classes only. (approved 12-0, 3/13, #45299)**.

For NAMHSA/NAN qualifying purposes, a "unicorn" is defined as an equine with a single horn attached at or near the forehead. A "pegasus" is defined as an equine with wings attached at or near the shoulders. Wings can be of any type found in nature, and will not be limited to bird-like only.

Eligible animals will basically be equine in nature, with an equine head, neck, body, and legs. Goat-based or half-equine creatures will not be eligible. The head and body must remain equine in form. Hooves can be equine or cloven, tails can be of any type, and extra hair, scales, feathers, or other textures on the head and/or body are permitted, so long as the head and body are still equine in form. Bodies may be skeletal in nature as long as the skeleton portrayed is equine in form. Sculptures can be realistically colored or decorators. The base equine can be any equine--horse, pony, donkey, mule, zebra--of any breed type, with no stated preference given to one type over the other. (updated 11/2013 to include skeletal equines, approved 5-4, #48225)

OF models will be judged based on collectibility criteria already outlined on the NAMHSA website and in the NAN packet.

CM/AR entries will be judged based on artistry of the sculpture, lack of prepping and painting flaws, and proper equine biomechanics of the head, neck, body, and legs. Wings and horns will be judged based on the skill and artistry with which they are added to the equine. Whether or not it looks as though the animal can fly will not be a stated criteria for judging. These are imaginary creatures, after all, and, just as there are flightless birds, so, too, can there be flightless winged equines.


~HALTER - 3 horses per class in all halter divisions, EXCEPT China which has an *unlimited* class entry.

~If there is a Draft and/or Pony Division, this is the division you will put ALL your drafts and ponies regardless of breeding! They WILL NOT go in the final Division in the Other Pure, Other Part/Mixed classes. They will NOT be judged if you put them there, so please put them in the Draft Division or the Pony Division respectively. EXCEPT, if the draft/pony/other is ALL ONE DIVISION, then they would certainly go in those other pure and part classes.

~Judges of each division will have the final say on the necessity of *splitting out* classes if need be. We have the class list assembled according to the actual numbers of horses that showed up for The Ball over the past few years, and even looked at numbers from Lone Star. So, if you do not see a class for your specific breed or type, it may be that there was not enough showing up to warrant it - hence the catch-all classes. Bring your extra show horses for possible splits, just in case, as not only quality of breed choice, but quantity will help the judges decide if a split is warranted! This changes year to year with all the molds and models and horse goodies that come out, of course!

~DOLLAR BUY-IN - Yes! By popular demand, we will be keeping our *dollar buy-in* not only for Halter Horses, but also for some Performance Classes. The Dollar Buy-In allows you to add your favorite extra halter horses to your favorite classes for just $1, you may add as many as you like throughout the show weekend. Just put the dollar down with your extra entry and the judges will pick them up!

RULES ~
~You Must Abide by the TIME ALLOCATIONS and get all your horses in the ring on time - *including* your extra Buy-In Horses
~All Halter Classes, All Divisions are eligible for the *Dollar Buy In*
~Performance Classes allowed for the *Dollar Buy In* TBA

~PERFORMANCE - 2 entries per class



**YOUTH/NOVICE**

~Will run before China on Saturday
~Entry Fee is $15, payable at the door



**SPECIAL NEEDS - SEATING REQUESTS**

If you have a special request, please let me know as I will be saving tables during set-up for folks.



**TRIVIA TRIVIA TRIVIA**

Throughout the show, I will shoot off hobby questions to the crowd!



Show Shirts, Totes and Mugs: Check out our Cafe Press shop and get your show gear today! Midwinters Ball or NAMHSA Region 5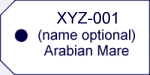 Tags: Front of tags should have only the model's entry number, breed and gender showing (name is optional). See example at right, XYZ being your number, 001 being your horse's number. Only this side should be where the judge can see it. Back of tags may have your name and the horse's name so you can ID them. You can find your show entrant number or get a number by emailing Daralyn Wallace. There is a list on the Region 5 Facebook page, https://www.facebook.com/groups/namhsaregion5/files/ but Daralyn has the most up-to-date one.

Please email your horse list to Brad. It's much easier for him than typing it all in, and we want him to keep doing results for us.

Please contact Shannon Southard at ssouthard(at)austin.rr.com or 512-257-9511 for information, or if you have items you wish to donate or sponsor!
Co-Show Hostess - Kim Wandrey at kim(at)lmsassociates.com

Take Care,
Shannon, Kim & Brad